Your letters for June 18, 2022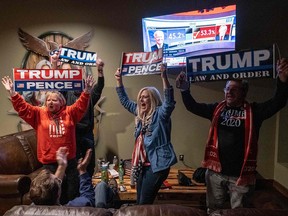 Article content
Ohio is not one to criticize
We apologize, but this video has failed to load.
Your letters for June 18, 2022
Back to video
Article content
Re: Ohio Lawmakers put Canada on watchlist, June 14
Ohio should focus on its own manifest shortcomings instead of criticizing Canada for how it dealt with those who did not abide by COVID restrictions under the banner of religion.
As stated in the article, our COVID death rate was one-third of that in Ohio. Clearly, Ohio's efforts to fight the pandemic were an abject failure when compared to ours.
Another interesting metric is that the 2021 murder rate per 100,000 population in their capital city, Columbus, was 15.3 times that of Calgary for the same period. Ohio has 131 people on death row currently. In their defence, it would be less if not for the difficulties in securing the drugs used in lethal injections starting in 2018.
Article content
In May 1970, the Ohio National Guard killed four students and wounded nine others who were protesting the Vietnam War on the campus of Kent State University.
Ohio, it would seem, is morally unfit to pass judgment on Canada for any reason whatsoever.
Accessibility should be a priority for Green Line LRT
Equitable access to public transportation is important as it is a key enabler for employment, recreation, and socialization. This is especially true for people with sight loss, including me, because we cannot drive. We have specific needs, such as audible announcements and tactile markings, that must be considered to ensure public transit is accessible for us.
So far, Calgarians who are blind or partially sighted haven't been engaged in the development of the Green Line LRT (light rail transit), the largest infrastructure investment in our city's history. Calgarians deserve a state-of-the-art public transit system that does not just barely meet accessibility requirements but leads the way in inclusive design and acts as a model for future projects. Accessibility should be a priority from the beginning, not an afterthought.
Article content
It will be far more cost-effective to consult people with sight loss today than try to fix a broken system tomorrow. Please follow the principle of "nothing about us without us" because the Green Line LRT simply won't enable us to live, work and play without barriers if we're not included from the start. 
Mark Rawleigh, CNIB, Calgary
Labels may lead to informed choices
Re: Baseless – Province skewers Ottawa over proposed ground meat warning labels, June 13
Beef and pork have long been known to be Class 1 carcinogens, yet the meat industry has done everything in its power to hide this fact so they can reap the profits. All at the expense of Canadians' health and the associated costs to taxpayers.
These warning labels are only stating facts that many Canadians may be unaware of and thus will be able to make more informed choices. Much like the revised Canada Food Guide that encourages more plant-based proteins despite strong lobbying by the meat and dairy industries, Health Canada is doing what's best for Canadians' health by adding these labels. I applaud them!
Article content
Candice Howrish, Calgary 
Mayor and council want to fix the world
Re: To be successful, city's climate plan must be realistic, Opinion, June 10
I wonder if everything Mayor Jyoti Gondek is going to declare as an emergency is because the "world is watching?"
On June 13, a 14-day state of local emergency was declared for a June rain that comes every year, yet above that a climate catastrophe of existential proportions that necessitates $87 billion to save our planet?
Do any city councillors have a math, science or business degree? They all seem to be poli-sci or poli-planners who engage in speculation. The Calgary Construction Association should be commended for providing real-life math to council, in that 52 homes and one commercial structure will need to be retrofitted every day, seven days a week for 30 years to reach net-zero emissions. Kerry Armstrong, Calgary
Two classes in Canada
The average Canadian is struggling with rampant inflation and concerns about climate change.
At the same time, the prime minister and the Governor General appear to be having a competition: which one of them can spend more of the taxpayers' money on food, alcohol and jet fuel. It is hard to imagine how any government could be further out of touch with the real lives of its citizens.Philip E. Carr, Calgary