Varcoe: Farming in the Calgary Tower — new ideas envision a different downtown for city
After nearly a decade of difficulty, downtown Calgary needs a transformation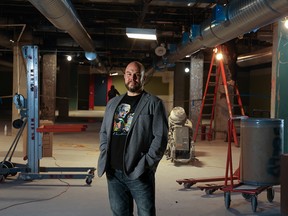 Article content
If you want to see the future of Calgary's downtown, start at one of the most recognizable and tallest landmarks in the city: the Calgary Tower.
Article content
We apologize, but this video has failed to load.
Varcoe: Farming in the Calgary Tower — new ideas envision a different downtown for city
Back to video
Built 55 years ago to house Husky Oil and Marathon Realty, the iconic structure was developed to mark the country's centennial and to "encourage a return of business to the downtown core as a part of a Calgary urban renewal project."
Today, the Calgary Tower is no longer the city's tallest structure.
But the 191-metre-high attraction and its adjacent office and retail property are on the cusp of becoming home to one of the most innovative ideas designed to fill empty oilpatch space: urban vertical farming.
Agriplay Ventures is constructing a showcase facility for its urban farming technology on the second floor of the Calgary Tower Centre, which flanks the recognizable column.
The local company expects to convert up to 65,000 square feet of rentable office space — formerly used for record storage by oilpatch giant Encana — to grow commercial quantities of fruits and vegetables.
Article content
"What's a better sign of transformation and diversification than converting a landmark?" says Agriplay president Dan Houston, who previously worked in Calgary's commercial real estate sector and knows first-hand the formidable challenges facing the core.
"I see, personally, the vacancy rate downtown as a symbol of opportunity for other people. And there are some really interesting ways people are thinking about converting and changing the downtown core.
"So I actually see it as a transformational story."
* * * * *
After nearly a decade of difficulty, downtown Calgary needs a transformation.
Recent problems facing the area have been well-documented: plunging property values; nearly one-third of downtown offices now vacant, almost double the national average of other cities; growing concerns about safety; and, a lack of consistent vibrancy once the work day ends.
Article content
Add to this bitter brew two broader trends, with more people working remotely during the pandemic and the gradual shift away from bricks-and-mortar retail stores to online sales.
This is a gut-check moment for the downtown: evolve or languish.
In the past 24 months, nagging fears about the future have been displaced by the realization new ideas must be embraced.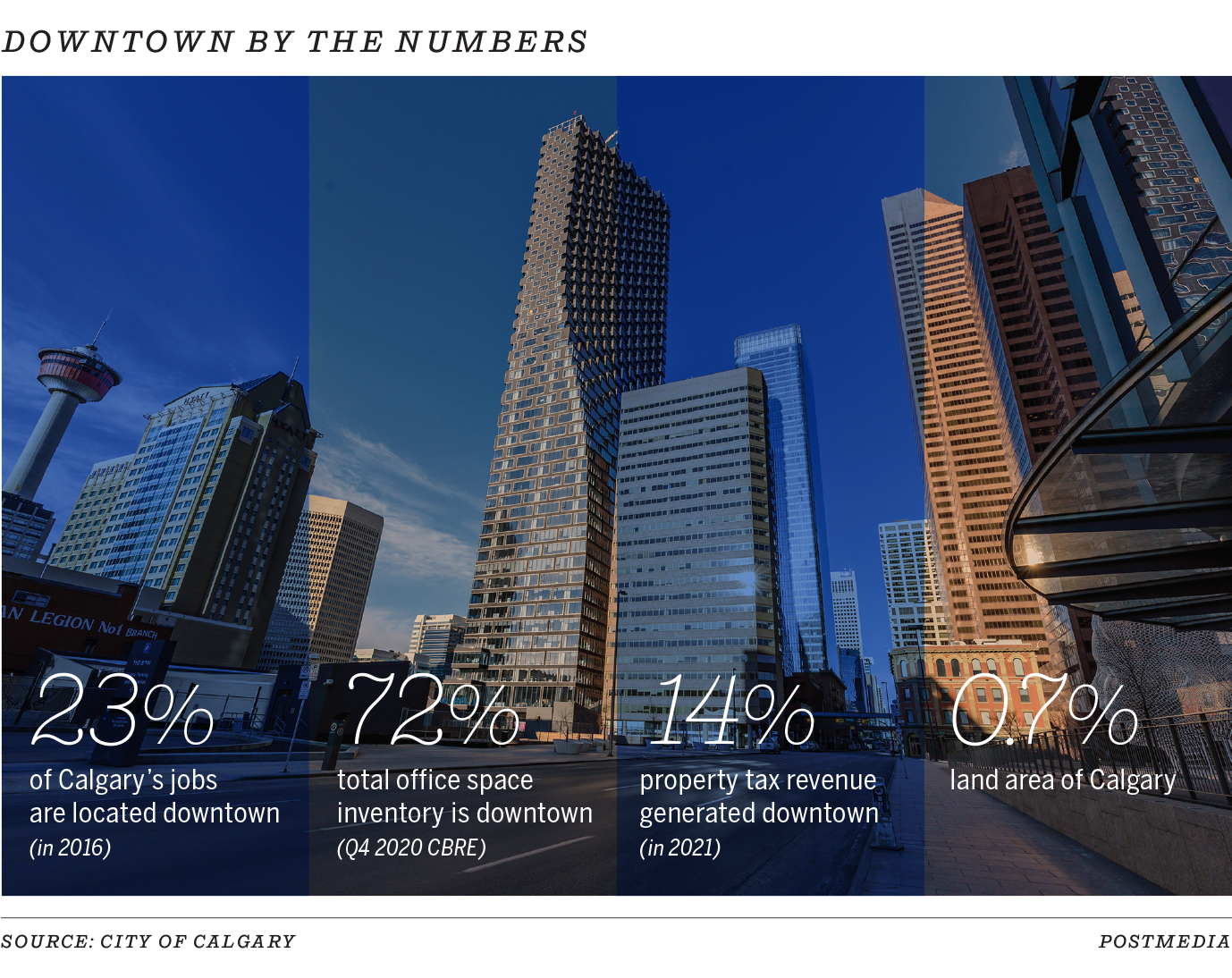 Even with crude oil prices back above US$100 a barrel this year, an oilpatch hiring spree isn't taking place to fill up unoccupied office cubicles.
The only way to tackle the problem is by doing something about it — and that's beginning to happen.
"The narrative has changed fairly quickly here in the last few years," says Thom Mahler, Calgary's director of downtown strategy.
Article content
"Ironically, the pandemic could've made it even worse, but in a lot of ways . . . it's helped us really focus to say, 'Yes, we need to diversify. It's not just going to be about oil and gas coming back.' "
* * * * *
To envision what Calgary's downtown will look like in a decade's time, Mahler and others say one of the key undertakings is to bring more people into the area.
It means transforming aging towers built during the 1970s energy boom into modern homes. It means relocating post-secondary faculties — and students — into the inner city.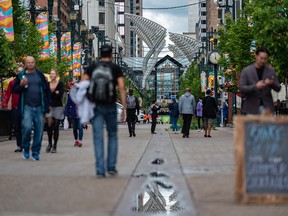 It means supercharging cultural facilities to draw Calgarians and tourists into the core, and using affordable rents to entice diverse companies to fill empty floors.
It even means planting a farm in a concrete urban jungle.
Article content
"This was a (chance) to give a new opportunity for this space that didn't exist otherwise," says Rob Blackwell, chief operating officer with Aspen Properties, which owns the Calgary Tower and adjacent development.
"It just checks all the boxes to be a great, cool use."
It is just one idea, yet it is a sign of the innovation now being embraced.
Houston says his company, which will use new growing systems that require less power and water than other vertical farming technology, is designed to work within commercial office or retail properties.
He hopes the $10 million to $12 million project serves as a launching pad for an even bigger aspiration: converting about three million square feet of downtown office space into urban farming.
Article content
"If I can put it in the Calgary Tower, you can do it anywhere," he says.
* * * * *
Highrise farming isn't the only out-of-the-box concept now germinating in the core.
Last year, city council passed Calgary's Greater Downtown Plan, a strategy designed to bring more residents, tourists and businesses into the area.
With more than 13 million square feet of vacant office space today, it's enough room to house another 130,000 employees in the core, although it might take up to 15 years for Calgary's downtown employment base to return to where it was in 2014, the report noted.
As part of the plan, council approved an initial city investment of $45 million (later increased to $100 million) to offer grants to building owners to convert office towers into residential units.
Article content
The first three projects were approved this spring.
"With our conversion program alone, we would expect over the next three to four years that's an additional 1,000 to 2,000 people," says Mahler.
"People are going to come downtown with purpose to do specific things, but in 10 years, people will just come downtown to see what's going on. And there's always going to be something going on."
In an odd way, the protracted problems facing Calgary's downtown forced the city to confront its troubles before other communities came to the same conclusion during the pandemic, that workers might not return to inner-city offices with the same frequency.
"The big thing for Calgary is they've got ahead of it, ahead of other cities," says Steven Paynter, a principal at architecture, design and planning firm Gensler in Toronto, who helped Calgary Economic Development develop a scorecard to evaluate buildings for conversion.
Article content
"They were the first to make a move and to fund these types of projects with the eye to actually reinvigorate the downtown.
"They are honestly the first movers. Others are playing catch-up."
Experts in commercial real estate and urban planning agree one of the keys to rejuvenating the core is to bring more residents, visitors and businesses into the area.
The city plan notes the Greater Downtown's six neighbourhoods (including the Beltline, Eau Claire, Chinatown, East Village, the core and west end) have seen their population increase by 36 per cent between 2007 and 2019 to almost 45,000 people.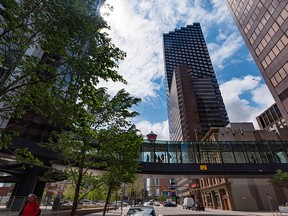 It expects to see another 20,000 residents by 2035, growing to about the same size as the City of Medicine Hat is today.
Article content
"There are people around the world who want to have that urban lifestyle, so I see a downtown (in a decade) that is brimming with activity — people, grocery stores, entertainment options, different living structures," says Calgary Economic Development CEO Brad Parry.
"In 10 years, the downtown won't look anything like it looks today."
More residents should trigger demand for more amenities, everything from hardware stores to schools for young families to more parks for pet owners.
Paul Fairie, principal co-ordinator for the recently formed Downtown Core Neighbourhood Association, says attracting more people to live in condos and apartments means city planners must also consider non-commercial issues as the core's population grows.
Article content
That might mean having a more walkable environment downtown for families with strollers, spaces where community residents can meet, or access to nearby elementary and junior high schools.
"My favourite fact to share about the downtown core . . . is 8,500 people are living here — 1,000 children — but people talk about it like it's just empty offices. But it's also a neighbourhood," Fairie says.
"Sure, it's not going to be New York, but it can be lively and vibrant during the day with all of the office space during the week. And then it can also be lively at night as well, just because of the increased residential population . . . We need to bring people to live downtown, to make this a 24-hour or 18-hour kind of city."
* * * * *
Providing more housing options is one way to pull people into the area.
Article content
Another is to attract more businesses, post-secondary faculties and students.
A report on downtown Calgary for the province by a working group suggested creating a task force to examine a post-secondary education downtown strategy, and consider offering financial incentives for colleges and universities to relocate faculties into the core.

"Students will live close to where they go to school," says John Brown, a member of the group and dean of the University of Calgary's school of architecture, planning and landscape, which opened a downtown research hub in the former central library building before the pandemic.
"If you bring programming downtown, then there will be a demand for student housing."
Having students and faculty downtown will also help increase the sense of vitality and security in the core, adds Opus Corp. CEO Hannes Kovac, co-chair of the real estate sector advisory committee at Calgary Economic Development.
Article content
The presence of a growing cultural and entertainment area will also draw people into the area during evenings and weekends, with projects moving ahead such as the $450-million Arts Commons renewal development — the initiative includes a new 1,200-seat theatre — and the renovated Glenbow Museum/JR Shaw Centre for Arts & Culture.
Economic diversification is also part of the mix, as the clean energy, life sciences and technology sectors need more space to expand.
Lucas Manuel, a partner with Slate Asset Management, which owns 12 downtown buildings (including the renovated Stephen Avenue Place) isn't expecting a "snappy recovery" to Calgary's high office vacancy rate.
But he believes progress is being made.
Article content
Oilpatch recovery is underway, emerging sectors are growing, and Calgary offers an excellent quality of life and an affordable cost of living compared to other large Canadian cities.
"We have young people in our office putting their hands up to move out to Calgary," Manuel says from Toronto.
"We are hiring people there to work on stuff in Toronto right now, and I know that's not unique to us."
* * * * *
There will be no quick fix to the plight of the downtown.
But there are principles from the past to help guide the future.
"Our downtown should be more than just streets and structures, parks and public buildings; it should be our common meeting place and the cauldron of business, social and cultural activity," Jack Leslie, Calgary's mayor between 1965 and 1969, said in a report on the future of the core written 56 years ago.
Article content
"Downtown is the link between Calgarians and their city, and the link between Calgary and the world at large."
In that world, Dan Houston believes innovation — and a willingness to take some risks — will rejuvenate his hometown's downtown.
And it might not take a decade to reach that future.
"We will all be very pleasantly surprised that within the next three, four years, downtown is going to be amazing," he says.
"There are a lot of 'right ideas' that are now starting to really form and I'm loving it."
Chris Varcoe is a Calgary Herald columnist. 
---

Downtown Turnaround: A special series
Calgary's downtown is at an important crossroads. The core needs to be revitalized as the city recovers from the pandemic, an economic downturn, labour shortages and unprecedented office vacancy rates. In this special report, Postmedia Calgary looks at the downtown dilemma, potential solutions and transformative successes.
Wednesday, June 22: Dealing with the towering problem of office vacancies
Thursday, June 23: Boosting downtown safety
Friday, June 24: Learning lessons from other cities
Saturday, June 25: Two dozen Calgarians share their thoughts on the core
To see more related content and videos, go to calgaryherald.com/downtown.
What are your ideas for revitalizing the downtown? Tell us at reply@calgaryherald.com.