Top Prospects: Leading innovators from the Class of 2022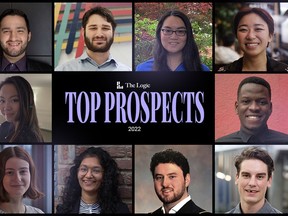 Article content
For the fifth year in a row, The Logic reached out to Canada's top engineering and computer-science schools to find out which rising stars are on their way to becoming leaders in the innovation economy.
Article content
We apologize, but this video has failed to load.
Top Prospects: Leading innovators from the Class of 2022
Back to video
Some of this year's top graduates are interested in leveraging technology and entrepreneurship to improve the lives of others, whether that's building community, encouraging diversity, equity and inclusion, or promoting health and wellbeing. 
In alphabetical order, here are 10 of Canada's leading innovators from the Class of 2022. 
Article content
Ahmed Hamodi

School: University of Waterloo

Program: Software engineering 

Employment status: Entrepreneur
In early 2021, Hamodi co-founded DecisionHub, which allows organizations to collect, review and make unbiased decisions on applications for grants and student bursaries. The company wants to focus its future growth on eliminating bias in hiring and investment decisions. In Hamodi's final year of school, he was also the president of UW Blueprint, a group of Waterloo students who partner with non-profit organizations to provide free tech services, like web development, that will help drive change within local communities. His plans for the near future are to work full time at DecisionHub in a co-founder capacity.
Article content
Allen Kaplan
School: York University

Program: Software engineering

Employment status: Entrepreneur
During Kaplan's undergraduate studies, he was able to hone his skills with an internship in manufacturing automation at AFA Systems, and later at Coinbase, a U.S. cryptocurrency platform. Coinbase offered Kaplan a full-time role, but despite his belief in their mission, he said he wanted to lead innovation work on his own and make a full-time transition to his role as CEO of Radar, a startup that began as his capstone project in school. Kaplan describes Radar as "a social LinkedIn with different profiles for each community you join." 
Article content
Tabea Marzlin
School: Dalhousie University

Program: Computer science

Employment status: Drafted by Ubisoft
Article content
Marzlin was one of the Faculty of Computer Science's first Women in Technology scholarship recipients. It offered her financial support as well as mentorship from women tech leaders, professional-development programming and co-op opportunities. She was also vice-president of the Women in Technology Society, supporting student life and community building for underrepresented groups. She was a peer mentor for the faculty's mentorship scheme for new women students. Marzlin will next join Ubisoft Halifax as a junior programmer, where she will focus on developing mobile games.
Liam Maaskant
School: Dalhousie University

Program: Mechanical engineering

Employment status: Entrepreneur
Maaskant is a former Ontario Hockey League defenceman, and the former captain of the Acadia Axemen hockey team. While studying at Dalhousie, he co-founded Axtion Independence Mobility, a company looking to improve the traditional rollator walker. He and his partner, Tracey McGillivray, are looking to combine a four-wheeled walker with a mechanical seat so people can get back up after falling with minimal assistance. After graduation, Maaskant will focus full time on the development, manufacturing and commercialization of the device. 
Article content
Joshua Pius
School: University of Toronto

Program: Computer engineering

Employment status: Drafted by Google
During Pius's studies, he was involved in the U of T chapter of the National Society of Black Engineers, where he eventually became president. He was also part of the team that started NSBEHacks, the first student-run Black hackathon in the Greater Toronto Area. His co-op placements included working remotely for Bloomberg's New York office as a software-engineer intern, followed by roles at Amazon, Intel and Google. Following graduation, Pius will move to New York City to work for the Google Cloud Platform as a software engineer. 
Nikolaus Provenzano
School: University of British Columbia

Program: Biomedical engineering

Employment status: Undrafted
Article content
Born without a left hand, Provenzano's own use of prosthetics technology has fuelled his passion for bionics design. He is a founding member of UBC's bionics design team and worked as a research assistant at the UBC Advanced Materials and Process Engineering Laboratory. Provenzano hopes to inspire others in the amputee community to enter STEM fields, and has been a speaker for Lime Connect and The War Amps. He hopes to start his own bionics company to provide advanced prosthetics to people in impoverished communities. He is now pursuing a role in management consulting or project management.
Amy Tai
School: University of Waterloo

Program: Management engineering

Employment status: Re-drafted by the University of Waterloo
Article content
Tai is currently volunteering as a Canada-Africa Innovation Fellow with Engineers Without Borders Canada. Teamed up with graduating students in Ghana and Canada, her group is exploring food-insecurity issues in Ghana and learning how to better collaborate with others in different regions. Now that she's graduated, Tai will pursue a master of applied science in systems engineering at the University of Waterloo. Her research will focus on improving diagnostic accuracy for breast cancer. Tai also hopes to launch a non-profit that will help students explore future career plans with a guided exploratory experience. 
Joice Tang
School: University of British Columbia

Program: Computer science

Employment status: Drafted by the University of Washington
Article content
From 2020 to 2021, Tang was the director of cmd-f, the largest gender-minority hackathon in B.C. Along with her team, she created the connect-f mentorship program to link gender-minority students with role models. Next, Tang will pursue a PhD in human-centred design and engineering at the University of Washington. She will research the role (or lack thereof) of technology in decentralized decision-making for grassroots organizing. 
Shlesha Van
School: McGill University

Program: Mechanical engineering

Employment status: Entrepreneur
Van became part of McGill's engineering community within 24 hours of moving to Canada from Ghana, immediately joining the McGill Robotics team, where she gained hands-on experience in engineering design. After discovering several cavities at a dental checkup, and being left with a hefty bill, she began working on a 3D toothbrush and founded Ora-3D, an engineering innovation firm focused on oral health. With Ora-3D, she has filed three to five patents across the world, and received her first patent certificate before graduating. She will continue her role as CEO. 
Article content
Yudi Yang
School: Western University

Program: Dual major in software engineering and business administration 

Employment status: Drafted by McKinsey & Company



During Yang's studies, she was vice-president, external for the Canadian Federation of Engineering Students and conference co-chair for the Engineering Student Societies' Council of Ontario. In 2020, she co-founded Mindset Masters, for which she is developing a machine-learning algorithm allowing students to follow a personalized learning pathway to develop a growth mindset. Also that year, she founded Nu, which aims to reduce menstruation pain. She took a step back from Mindset Masters and Nu while on an exchange program at the National University of Singapore. When she returns in August, she plans to resume working on her startups while balancing full-time work at McKinsey.
This section is powered by The Logic. The Logic is Canada's preeminent tech and business newsroom. For more news, visit thelogic.co.