Review: What Rosebud musical lacks in structure it gains in performance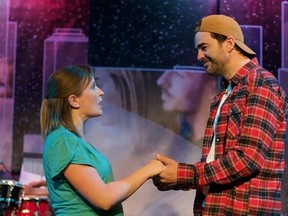 Reviews and recommendations are unbiased and products are independently selected. Postmedia may earn an affiliate commission from purchases made through links on this page.
Article content
Rosebud Theatre's summer musical Songs for a New World could easily be retitled Hear Me Sing and See Me Shine.
Article content
We apologize, but this video has failed to load.
Review: What Rosebud musical lacks in structure it gains in performance
Back to video
It's a song cycle of 15 songs that Jason Robert Brown wrote for other projects that he strings together because they share the theme of searching for a new perspective.
In On the Deck of a Spanish Sailing Ship, the weary passengers rely on their faith that there is a better land waiting for them, while in King of the World, a man wrestles with his faith because he does not understand why he is being punished for the way he lived his life.
Regret is the theme of Stars and the Moon as a woman laments she chose wealth and security over love and adventure and we see in The Steam Train the same will probably happen to a young man who dreams of greatness though he lacks the skills to make it happen.
What makes Songs for a New World entertaining in this Rosebud incarnation is that it features four talented performers determined to make each song special and meaningful. The songs are not nearly as compelling as the heartfelt emotions Scott Pietrangelo, Alixandra Cowman, Cassia Schmidt and Aaron Krogman bring to them.
Article content
Director Morris Ertman tries valiantly to give the show a semblance of structure. He sets the opening in a coffee shop where Pietrangelo and Cowman are serving coffee but that convention disappears quickly because it doesn't work for most of the songs.
Ertman creates a kind of relationship for Schmidt and Krogman especially in She Cries, a song about a man who keeps coming back to a crumbling relationship hoping he'll find the woman he fell in love with. He gives it a kind of resolution in I'd Give It All For You when the couple realizes it was always fear of loving too much that kept driving them apart. There is also an attempt to talk about the sacrifices soldiers make during wartime in the ballad The Flagmaker and it is to Ertman's credit he does not use the American flag but something more universal.
Article content
Cowman has the two humorous songs in the show. First, she is a woman railing at her uncaring husband, threatening to jump off the ledge of their apartment building and then she is Mrs. Claus telling Santa she's tired of having to spend every Christmas alone. Cowman is like a young Madeline Khan savouring the opportunity to have fun with dark themes in a song.
Brown's tunes are pitched high so Krogman and Pietrangelo are often using their top registers without actually slipping into falsetto. The effect is impressive as is the harmonizing when all four singers tackle a song together.
Songs for a New World doesn't have the gut-wrenching power of Jacque Brel is Alive and Well and Living in Paris, the barbed humour of Tom Lehrer's Tomfoolery, the nostalgia of Side by Side by Sondheim or the sparkling cleverness of any of Joe Slabe's Naughty but Nice reviews. It is a pleasant, undemanding musical that features outstanding performances and great orchestration from its three-member band.
It runs at Rosebud Theatre until Aug. 28.