Enmax hires outgoing Hydro One CEO Mark Poweska as new boss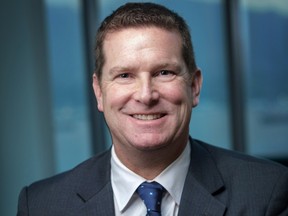 Article content
Enmax Corp. announced the appointment of a new chief executive officer on Tuesday — the outgoing leader of Hydro One — marking its fourth CEO at the helm of the organization in two years.
Article content
We apologize, but this video has failed to load.
Enmax hires outgoing Hydro One CEO Mark Poweska as new boss
Back to video
The Calgary-owned power utility has named Mark Poweska as the next CEO at Enmax, beginning in September, taking over the organization after a period of rapid change within the Canadian electricity industry and the company itself.
Poweska's departure from Toronto-based Hydro One after three years as its CEO was announced Tuesday, with a statement saying he was departing "to assume a leadership position at a utility closer to his family in Western Canada later this year."
He previously worked as an executive at BC Hydro in Vancouver.
"Mark is a tremendous industry leader with great experience . . . we're just really excited about the opportunity to bring him here," Enmax board chair Greg Melchin said in an interview.
Article content
"To find a person of the calibre of Mark, the timing was perfect for us."
In Calgary, he will replace interim CEO and longtime board member Charles Ruigrok, who assumed the position last October after the departure of Wayne O'Connor.
O'Connor held the job for less than 17 months during the middle of the pandemic.
"We have been looking for a new CEO since last fall. We put in a very good, rigorous process to look at the marketplace," said Melchin.
"We looked hard at a lot of the value, culture, skill set kind of issues we need going forward and are really pleased with the process."
The departure of O'Connor last fall, who previously served as president and CEO of Nova Scotia Power, was mutually agreed upon, according to an Enmax statement at the time. During his tenure, O'Connor oversaw a major reorganization within Enmax as the COVID-19 pandemic hit.
Ruigrok, who has served on the board for more than a decade, had previously held the position as interim CEO in 2011 and 2012, prior to the hiring of Gianna Manes, who was Enmax's leader from 2012 until mid-2020.
Enmax operates more than 1,500 megawatts of generation and provides electricity, natural gas, and energy services to about 700,000 customers in the province. Its consolidated revenues rose by 18 per cent last year to $3.1 billion, while net earnings increased by 2.7 per cent to $296 million.