Editorial: Why should we care about Calgary's downtown?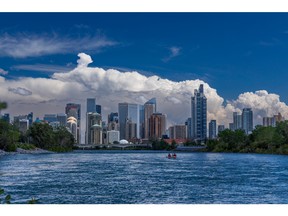 Article content
As a result of the last seven years of layoffs, office tower vacancies, shuttered shops and pandemic turmoil, Calgary's downtown is suffering.
Article content
We apologize, but this video has failed to load.
Editorial: Why should we care about Calgary's downtown?
Back to video
And now the once-active core is marked by a rise in violence and disorder, real and feared.
Provincial and local governments have promised to fix it, with city hall instituting and pondering various strategies.
A lot of money is on the table. But if all of this is to work, it needs the support of taxpayers. We must determine why it's worthwhile. There must be buy-in.
It's been said that downtown is the heart of a city. It beats with cultural, social and even sporting activities.
It's also the brain of a city, with libraries, art galleries, museums, campuses, offices and, yes, even government buildings.
Finally, it's also the soul. As the oldest part of a city, downtown is a reminder of our past. Calgary City Hall, Stephen Avenue, Olympic Square, old banks, churches and Chinatown remind us of our founders and ancestors, and even the passage of life. We are comforted by most of that history.
Article content
However, what do you have without a brain, heart and soul? A downtown that is a hollow shell. If you don't feel good about your downtown, you don't feel good about your city. Then you start to think about moving to the suburbs or out of the city or province entirely.
It's not that Calgary already doesn't have plenty of potential for a thriving downtown. It has a lot of facilities and history now. But without the lifeblood of people actually enjoying the core again, it will continue to whither.
It's in everyone's best interests. Aside from the pleasures we get from attending a play or concert, or enjoying a pint in an old pub, downtowns are economic engines, as people move in, work, play and generate and spend money. With that comes higher tax revenues. You're welcome, suburbanites.
Article content
A thriving downtown also draws tourists and conventions. When people travel to cities for pleasure, they head downtown. When people travel for business, they want convenient facilities and appropriate distractions. The core is supposed to showcase the best a city can offer.
Calgarians, and all those who care about Calgary, have to participate in reviving our core. That's why Postmedia is embarking on a project to find ways of supporting and resuscitating our downtown.
As we shall see over the next several days, all is not lost for Calgary's downtown. Experts and observers will share their views on reinvigorating our core. There is a future, but what will it be and how will we get there?