Dr. Jane Goodall visits Calgary with an urgent message on climate change
The world-renowned primatologist and environmentalist said she's thrilled to be back in front of enthusiastic live audiences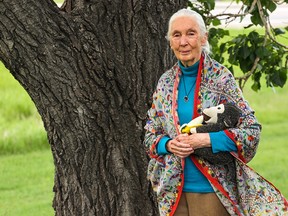 Article content
Renowned primatologist and environmentalist Jane Goodall is in Calgary this week to talk about her adventurous life in the forests of Tanzania to study wild chimpanzees and share a message of urgency regarding the climate crisis.
Article content
We apologize, but this video has failed to load.
Dr. Jane Goodall visits Calgary with an urgent message on climate change
Back to video
Goodall's lecture on Wednesday evening at the Southern Alberta Jubilee Auditorium marks her second large-scale, live address since the beginning of the pandemic, which she said she's excited for after more than two years of virtual presentations.
She said she's thrilled to be back in front of enthusiastic live audiences to discuss her study of chimps and the realization she needed to leave the chimps to raise awareness worldwide about the harmful impact of humans on the planet and wildlife.
"Every day you live on this planet, you make some impact and you can choose what sort of impact you make," said Goodall in an interview with Postmedia on Tuesday afternoon.
Goodall's research on chimpanzees in Gombe, Tanzania, began more than 60 years ago and has informed people's understanding of chimps' behaviour and how interconnected humans are with the animal world.
Article content
"They share 98.7 per cent of our DNA and have many other similarities. But the biggest difference is the explosive development of our intellect," said Goodall. "It's bizarre and awful that the most intellectual being to ever walk the planet is destroying planet Earth — our only home."
She said the disconnect between people's "clever brain and the human heart's love and compassion," has resulted in a society that values short-term gain over long-term environmental protection.
"It's this crazy idea that there can be unlimited economic development on a planet with finite resources," she said.
Goodall said arguing with climate change deniers is no good because they won't listen; the best way to reach them is to share stories about the devastating impacts of climate change worldwide.
Article content
Alberta itself grapples with such severe weather events as wildfires, floods, hailstorms and the heat dome that scorched Western Canada and the Pacific Northwest with fatally hot temperatures in July 2021.

Every person can make an impact locally if they feel too overwhelmed thinking about everything that needs to be done globally to change the course of climate change, she said.
"What do you care about? Homelessness? Do you care about discrimination? Do you care about litter in the street? Do you care about stray dogs? Well, find some people who agree with you or start on your own, and you'll find that you can make a difference there."
There is hope as groups like the Jane Goodall Institute, its Canadian branch and its Roots and Shoots program for youth do this kind of work worldwide. Roots and Shoots is open to young people from pre-school to post-secondary, Goodall said.
Article content
The 88-year-old said young people's ambition and enthusiasm give her hope for the future. The Jane Goodall Institute works to inspire youth into action through its Roots and Shoots program, which is active in Canada with more than 12,000 young people involved in projects across the country.
"If young people start learning about the problems and becoming aware, then they themselves want to heal nature," she said.
"We are changing the world and it's very inspiring to see how this generation is rising to face these new challenges, which we've created. We created climate change. We created the loss of biodiversity. We created the pandemic. And all of this was done by our disrespect of people and our disrespect of the environment and animals."
Article content
The poor treatment of animals by humans, going into their habitat, hunting them and forcing them into closer contact with people opens the door to more opportunities for animal viruses to pass into a person, said Goodall, adding that she hopes the lesson learned over the last two years is the need for humans to change their relationship with animals.
It's the billions of ethical decisions that people make every single day that make a difference every day. Individual efforts matter, she said.
Noting that Tuesday was National Indigenous Peoples Day in Canada, Goodall said people should strive to get back to the way of thinking of the Indigenous people.
"When they made decisions, they would think about how will this affect our people seven years from now? While today, people think how will this affect the next shareholders' meeting? How will it affect my next political career?"
Article content

Indigenous voices need to be part of every conversation on the environment because they have been stewards of the land for thousands of years and its beginning, said Goodall.
"Hopefully, we can still make use of the wisdom of the elders."
During her time in Canada, Goodall said she will be working to film something on the restoration of Sudbury, Ont., which is an example of the resilience of nature. She said she'll be releasing a fish in the river there where they were previously extinct due to years of mining, logging, fires, smelter emissions and soil erosion.
"I've seen what it was like when it was contaminated, miles and miles of black hills. One of those areas has been left how it was, which was black, and everywhere else is now filled with life and nature," said Goodall of the re-greening efforts.
She said her last reason to hope for a better future for the planet is the "indomitable spirit" of the people who tackle what seems to be impossible and don't give up.
"Every one of us has an indomitable spirit. Our job is to try and nurture it, grow it and let it out into the world, to inspire others."
sbabych@postmedia.com
Twitter: @BabychStephanie