Canadian couple found murdered in Mexico resort town of Playa del Carmen
Male victim was wanted internationally for fraud, say authorities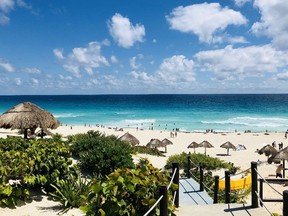 Article content
Two Canadian citizens, a man and a woman, have been killed at the beach resort of Playa del Carmen on Mexico's Caribbean coast, authorities said on Tuesday.
Article content
We apologize, but this video has failed to load.
Canadian couple found murdered in Mexico resort town of Playa del Carmen
Back to video
A senior state official told Reuters the man, whose identity has not been made public, was wanted by Interpol.
"He was not a tourist," the official said, adding that the man had been in hiding in Mexico for about four years. Local papers have identified the man as a Quebec native who first entered the country in 2016.
The killings in the state of Quintana Roo follow the fatal shooting in January of two Canadians with criminal records in nearby Cancun.
Investigators searched the apartment where the bodies were found and discovered the male victim had IDs with three different names.
Mexican media said the victims had had their throats cut, citing a local police report. The Quintana Roo attorney general's office said the two had suffered knife injuries, but did not immediately reply to requests for further comment.
Article content
Their bodies were found in local accommodation and a third person, a man, also was injured, the office said.
Canada's embassy in Mexico confirmed the deceased were Canadian citizens and said it was in contact with local authorities. It said it could not reveal further information at this time.
Playa del Carmen has been hit by several instances of violence involving foreigners, most recently in January, when two Canadians were killed at a local resort, apparently because of debts between international drug and weapons trafficking gangs.
In March, police in Playa del Carmen found the bodies of four men dumped near a housing development. The fact the bodies were left together in the shrubs beside an access road suggested a gangland-style killing.
Article content
There has been a series of brazen acts of violence elsewhere along Mexico's resort-studded Mayan Riviera coast, the crown jewel of the country's tourism industry.
In November, a shootout on the beach of Puerto Morelos, just north of Playa del Carmen, left two suspected drug dealers dead. Authorities said some 15 gunmen were from a gang that apparently disputed control of drug sales there.
In late October, farther south in the laid-back destination of Tulum, two tourists — one a California travel blogger born in India and the other German — were caught in the apparent crossfire of rival drug dealers and killed.
Murders in the resort state have nearly quadrupled since 2016, to about 37 per 100,000 residents.
Additional reporting from Associated Press and National Post