CBE to continue outreach sites for struggling students in Bowness, Westbrook
The 'Discovering Choices' program will continue operating out of leased spaces in Bowness and Westbrook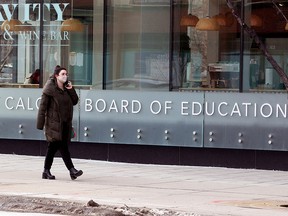 Article content
After hours of emotional back-and-forth debate, public school trustees decided in a 4 to 2 vote Tuesday to keep two unique outreach sites open for at-risk students, rejecting a controversial recommendation for closure and relocation.
Article content
We apologize, but this video has failed to load.
CBE to continue outreach sites for struggling students in Bowness, Westbrook
Back to video
"Discovering Choices" outreach programming in both Bowness and Westbrook will continue operating out of leased commercial spaces, offering unique, one-on-one supports for struggling students, many who have suffered trauma and face severe behavioural and learning challenges.
Several trustees with the Calgary Board of Education argued vehemently against administration's recommendations to move the programs to regular high school settings — a proposal that would have seen more than 200 Bowness students go to Robert Thirsk High School in the far northwest, and move about the same number from Westbrook to the Alternative High School in the southwest.
"Outreach is for students who find regular programming just doesn't meet their needs," said trustee Dana Downey, who voted against the recommendation for closure.
Article content
"As someone who has worked with at-risk youth and have seen them try to come into a traditional setting, often they just can't, usually due to anxiety," she added.
"Change in and of itself is a barrier to many of these students. And many in Bowness have already transitioned out of Robert Thirsk, and with this they would have to return, facing fears."
Trustee Susan Vukadinovic agreed that forcing at-risk students to try to learn in a highly populated high school such as Robert Thirsk could set them up for failure.
"Robert Thirsk may not be a good fit because of the higher vulnerability and anxiety of outreach students," she said.
Reading from submissions provided from students and staff in the program, Vukadinovic added: "One stakeholder wrote to say, 'Do not move students into a regular high school with their own special space. This will make students feel alienated in their own space as they have to go to their specialized program.'
Article content
"As young people, the anxiety of being different or being seen as 'stupid' is extremely stress-inducing. Having to see peers go into a regular system could be embarrassing for some students."
Only two trustees, Marilyn Dennis and Nancy Close, supported the recommendations for closure and relocation, arguing that the programming could be more robust and expanded in a regular high school, but with the same strong staffing supports.
"This is about how we commit to every student, to achieve success with the goal of having them graduate," Dennis argued.
"And it is clear how important relationships are and how staff will be following these students to the new locations."
Close agreed, but added that if the motion for closure didn't pass, the CBE should explore saving costs and public dollars by partnering with the community.
Article content
"Why aren't we housing programs like this within a community service agency?" Close asked. "I just don't see us having to work alone as a requirement."
Dany Breton, CBE superintendent of facilities, said that because of the province's new funding formula, which provides maximum dollars to schools that have at least an 85 per cent utilization rate, it has been difficult getting funding for outreach programs with low enrolment.
As well, moving those programs into buildings such as Alternative High School, which also has low utilization rates, could solve two problems and save money.
But Vukadinovic argued the CBE is faced with these challenges because the province has not fully funded the costs of operating all four of the CBE's outreach high schools.
Article content
In addition to Bowness and Westbrook, outreach programming is also offered at a downtown location and in Marlborough, also in unique commercial spaces.
Vukadinovic said the current lease costs total just over $550,000. But before the 2020-21 school year, the CBE only received a grant of $62,500 per outreach site for a total of $250,000 per year.
"This means that under the previous provincial-government funding formula, the leases were costing us $300,000 per year more than what we were receiving from the provincial government" she said.
"So we were making up for a $300,000 provincial-government funding shortfall."
Layered onto that, she added, the provincial funding for outreach programs changed for the 2020-21 school year and now the CBE receives a fixed grant of only $150,000 to operate all four sites.
The CBE has also argued it faces ongoing operational challenges after receiving flat funding from the province for two consecutive years.
But Alberta Education has said the UCP government is increasing education spending by $700 million over the next three years and that school boards are sitting on almost a half a billion dollars in operating reserves, with another quarter billion in capital reserves.