Canadian firms mostly shunned the SPAC craze. Those that didn't are scrambling to close their deals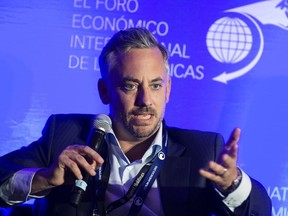 Article content
In spring 2021, Montreal-based Sagard Holdings launched a company for the sole purpose of taking another firm public. Sagard, the alternative-investment arm of Power Corporation, called the firm Portage Fintech Acquisition. The special-purpose acquisition company (SPAC) raised US$240 million—US$40 million more than its initial target—at US$10 a share, and went public on the Nasdaq on July 21.
Article content
We apologize, but this video has failed to load.
Canadian firms mostly shunned the SPAC craze. Those that didn't are scrambling to close their deals
Back to video
Talking Point
Canadian firms generally resisted the recent SPAC trend, with few opting to form their own blank-cheque companies or to go public by merging with one. But many of those that did participate are finding it difficult to close deals started in the midst of the SPAC boom and others are underperforming an already bearish market.
Article content
The company initially planned to spend between US$1.5 billion and US$5 billion to acquire a target. But nearly a year later, it has yet to find the right firm to take public. It has until July 2023 to do so, or the SPAC will be delisted from the Nasdaq. 
Portage is one of the few Canadian SPACs to have listed recently in the U.S. While the market for blank-cheque companies mushroomed on U.S. stock exchanges starting in 2020, Canadian firms remained widely ambivalent to the trend, with few opting to participate in markets on either side of the border. Many of those that did are underperforming an already bearish stock market, according to data provided to The Logic by Nasdaq, S&P 500 and the TMX Group. 
Article content
"SPACs in Canada have not been nearly as exciting, successful [and] prevalent as they have been in the U.S.," said Tim Babcock, the head of the TSX Venture Exchange.
For its part, Portage's SPAC stock has consistently hovered below its listing price. Now, with investors losing interest in speculative stocks and public listings drying up, Portage and other empty vehicles are left scrambling to find companies to take public before their time to do so runs out.
Article content
Often referred to as blank-cheque companies, investors create SPACs for the purpose of raising money to take another firm public through a merger. Once a SPAC lists on a public index, like the Nasdaq or New York Stock Exchange, it has a deadline—usually 24 months—by which it needs to find a target company.
Article content
The tool became intensely popular starting in 2020 and through 2021, as star investors launched their own SPACs. Proponents touted them as a quicker, less cumbersome route to the public markets with less risk for investors. Retail investors, celebrities and athletes latched on to the idea, raising more than US$250 billion combined for SPAC IPOs since 2020.
But companies that have merged with SPACs are, in general, struggling on the public markets. A PitchBook analysis shows that since 2018, firms that went public via SPAC had lost 47.8 per cent of their stock value as of early April; meanwhile, the S&P 500 had gained nearly 60 per cent over the same period. Since the start of 2022, SPAC companies' losses were three times as steep as those in the broader public markets. 
Article content
Fewer companies are now showing interest in the vehicle. After SPACs peaked in the first quarter of 2021 with nearly 350 new listings, IPOs dropped to just 68 so far this year, according to a report from SPAC Research. And of the 929 SPACs that went public since 2020, 626 are still looking for target companies. 
The drop in SPAC listings and mergers coincides with a broader freeze in initial public offerings this year amid the first prolonged market downturn in more than a decade.
"Most of these SPAC acquisitions were priced in 2020 and 2021 when valuations were near or at their peaks," Cameron Stanfill, a venture analyst for PitchBook, told The Logic. "They can really only go down." Stanfill added that the sectors in which SPACs have been popular, particularly tech and health care, have been hit especially hard in the market correction. 
Article content
"All these soaring valuations were pricing in some future growth," he said. "That's been flipped on its head with the current macroeconomic climate—rising interest rates, concerns about consumer confidence, business spending, etc. Suddenly all those future revenues and cash flows that a lot of these young, growing businesses were being valued on look a little bit less attractive."
In Canada, firms generally resisted the SPAC temptation for a quick exit in a hot market. By the time the market began cooling in late 2021, there had been just three SPAC IPOs on the country's largest stock exchange since 2020, and six firms taken public via SPAC, half of which are headquartered outside Canada. There have been four SPACs on the Neo Exchange since the start of 2020, just one of which has completed a merger. Florida-based FG Acquisition Corp. is the only SPAC that's listed in Canada this year, data from TMX and Neo shows.  
Article content
Although the SPAC trend passed over Canada, there are a handful of Canadian firms that went public in the U.S. through SPAC mergers. 
Since 2005, just 16 Canadian companies have merged with U.S. SPACs. Five such deals have closed since 2020, including one that's no longer listed. Another two Canadian firms—D-Wave Systems and Rumble—announced deals to merge with U.S. SPACs but haven't since followed through. 
Many of the recent mergers were high-profile deals involving some of Canada's most promising scaleups. Among them was Lion Electric, the Saint-Jérôme, Que.-based electric-bus manufacturer that raised US$490 million in proceeds from dual listings on the NYSE and TSX in May 2021, following its merger with Northern Genesis Acquisition Corp. Toronto-based Li-Cycle's merger with Peridot Acquisition netted the cleantech firm US$615 million upon its August 2021 NYSE debut. 
Article content
But since their SPAC mergers, those Canadian companies' share prices have suffered disproportionately compared to the broader market downturn. Lion Electric's shares on the NYSE closed at US$4.54 on June 17, down about 75 per cent since its public listing last spring. Li-Cycle's Nasdaq shares lost about 30 per cent since its debut. Overall, the remaining four Canadian firms taken public through a U.S.-listed SPAC have lost more than 54 per cent of their share value on American exchanges since going public. Over the same period, the Nasdaq and the NYSE have gained about 19.5 per cent and 1.3 per cent, respectively.
Similarly few Canada-based SPACs have listed in the U.S. Along with Portage, a team of B.C.-based investors debuted Swiftmerge Acquisition Corporation on the Nasdaq late last year, and members of the investment team at medtech venture capital firm Lumira Ventures took Lava Medtech Acquisition Corp public on the Nasdaq in October. (None of those SPACs are technically headquartered in Canada.) All three are still looking for target companies to merge with. 
Article content
Babcock said one reason Canadian SPACs haven't taken off is the country's big banks haven't embraced the model. The other reason, he said, is there hasn't really been a need. 
"We have alternative vehicles in terms of taking companies public in Canada," he said, "the key one being the capital-pool company program on TSX Venture."
Babcock described a CPC as a "mini SPAC" through which a shell company lists on the TSX Venture Exchange and takes a company public through a merger known as a qualifying transaction. The money involved is typically less than with a SPAC and the success rate is much higher. He said there's been about 2,700 CPCs on the TSX Venture, and more than 85 per cent of them have completed qualifying transactions. 
Article content
While CPCs have long been a common way for companies to list in Canada, their popularity soared last year alongside the SPAC craze. There were 88 CPCs in 2021 and 71 qualifying transactions on the TSX Venture, up from 31 CPCs and 48 qualifying transactions the year before. In the first quarter of 2022, there were 32 CPC listings and 20 qualifying transactions. 
Babcock attributes that rise in part to the attractive equity markets. But changes in the CPC rules have also driven recent interest in the vehicle and given it an edge over SPACs, he said. At the start of 2021, the TSX scrapped the 24-month deadline by which CPCs had to complete a qualifying transaction. The change eliminated the threat of being delisted if a company couldn't find a target fast enough, something hundreds of SPACs are now facing, he said. 
Article content
"There was a little bit of over-exuberance from the sponsor side," Stanfill said of the SPAC boom. He expects many of them to return their money to investors rather than carry out a merger by their deadline. "There's already been a couple SPACs that have closed up and returned the capital to IPO investors. I do think there will be a significant portion, whether that's 25 per cent of all SPACs that raised in 2021 or more … that do that."
Adam Felesky, CEO of the Portage Fintech SPAC, would not say whether the company is considering returning funds to investors rather than finding a target company. "It is clear that companies' ability to go public via a SPAC or IPO is challenged in the current market," he said by email to The Logic. "It is our view that as private and public market valuations begin to converge, we may see increased deal flow as we approach the end of 2022 and early in 2023, as we would hope that the overall market will have stabilized by then."  
Article content
Stanfill said it's possible that private companies may reconsider going public if their valuations drop enough. But the timing has to be just right. "There is that opportunity that SPACs currently out in the market could start making deals at more attractive valuations relative to the deals that were closed in 2021," he said. "But they're going to have to convince current IPO shareholders that these are good deals. When everyone that's invested in these SPACs just wants to get their $10 and interest back rather than rolling the dice on the deal, that's when it becomes an issue."
This section is powered by The Logic. The Logic is Canada's preeminent tech and business newsroom. For more news, visit thelogic.co.