Calgary renters struggle to handle 21% average hike to rent
Affordable housing, however, is getting left behind in this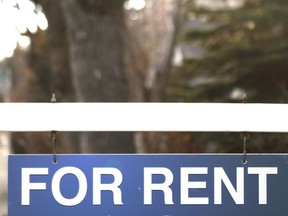 Article content
The cost of rent took a big jump for Calgarians in May and it is impacting those already pushed to the brink the hardest.
Article content
We apologize, but this video has failed to load.
Calgary renters struggle to handle 21% average hike to rent
Back to video
According to a monthly report released by Rentals.ca this past week, rent in Calgary jumped 21 per cent year-over-year in May, up 6.1 per cent month-over-month. The increase in rent far outpaced the national average of 10.5 per cent year-over-year. Even with the increase, Calgary only ranked 24th out of 35 major cities for average monthly rent for a one-bedroom home at $1,471 and 26th for a two-bedroom home at $1,794. The average rent for all property types was $1,661.
"Calgary is experiencing some of the same problems that Toronto and Vancouver experienced for . . . three years now," said Paul Danison, content director for Rentals.ca.
Across Canada, rents were up 3.5 per cent month over month, the largest increase in three years. Vancouver had the highest average rent for all properties at $2,909 while Edmonton was at $1,225.
Article content
Danison said he expects rent to continue to go up in Calgary through the end of the year, though not necessarily on the same trajectory.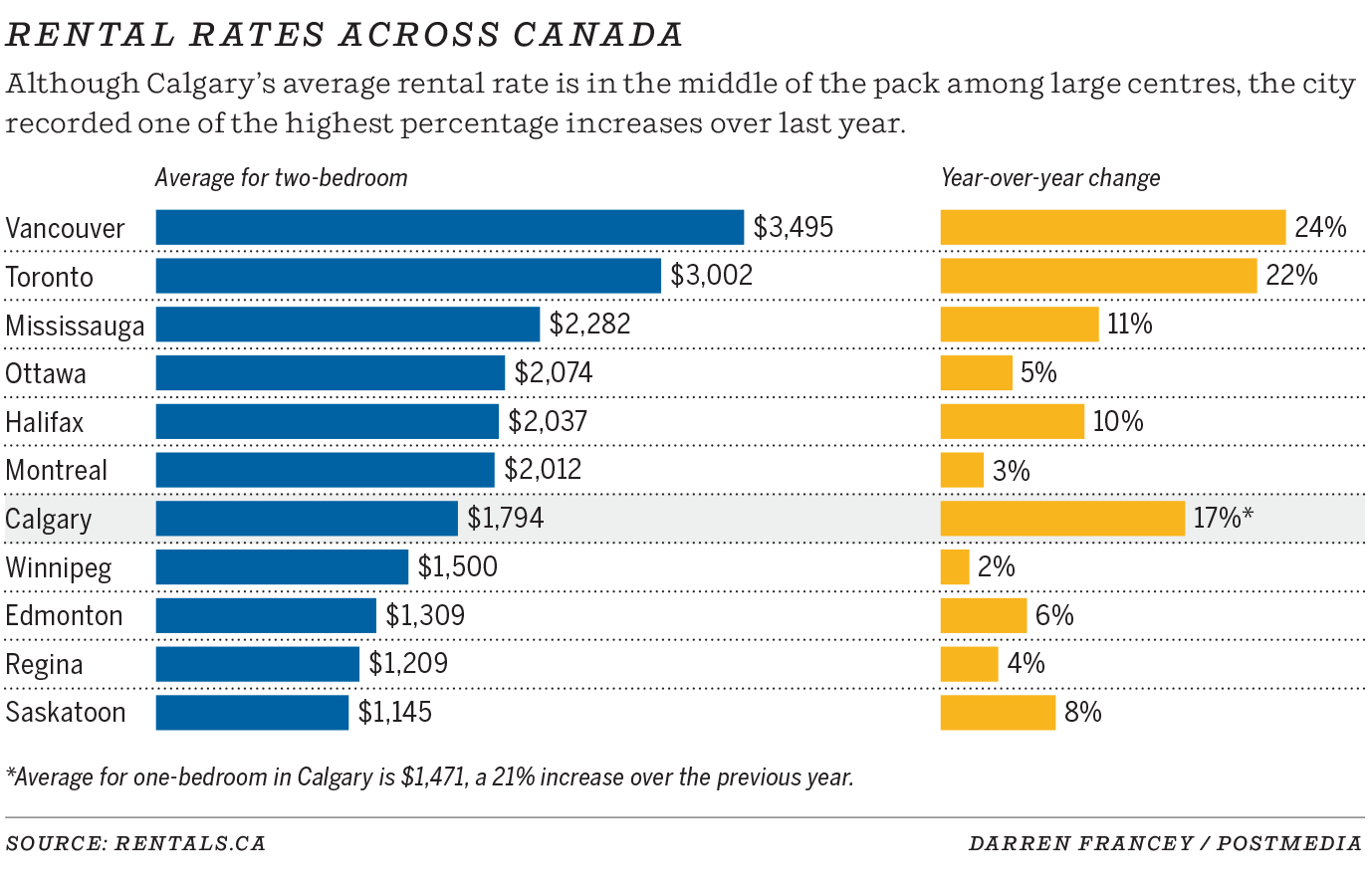 Driving this spike is an influx of people moving to the market, many for a rebounding economy and burgeoning tech sector, coupled with a record-setting real estate market through the first quarter of the year. This has led to more landlords selling after years of flat values, particularly in the condo and apartment market.
Danison said the vacancy rates in bigger homes were tracking at less than one per cent.
Landlords who are not selling are faced with rising costs for taxes, insurance, utilities and many other expenses. There is no cap in Alberta for landlords when it comes to raising rent.
Article content
The increases are hitting across all sectors of the rental market, be it condos and apartments, townhouses or single detached homes and in all parts of the city, though those closest to the downtown are seeing the higher hikes. This is due in part to the return to work and a desire of people to be closer to their office as those workplaces open up.
According to the Canada Mortgage and Housing Corporation, vacancy rates in the city for apartments and condos fell from 6.6 per cent to 5.1 per cent in 2021 and that was with 2,700 more units coming on line. Michael Mak, a senior analyst for CMHC, said there are about 6,000 more units currently under construction across the city.
Mak said the new units will help calm some of the growth in rent but it may take some time for the impacts to trickle down, as the new units will initially raise average prices.
Article content
"But of course, with these units, being on the market and competing against other units . . . older units might not have the same amenities, they might not be able to charge as much or compete against these units," he said.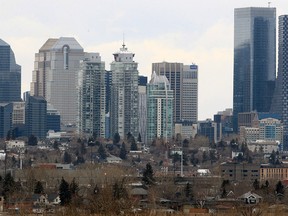 Affordable housing, however, is getting left behind in this. Of the 44,000 units in Calgary tracked by CMHC, only nine per cent would be considered affordable housing, though this does not include the secondary market with legal suites or other income properties.
The Calgary Housing Company put the total percentage of affordable housing units in the city — including rental and ownership — at 3.4 per cent. Sarah Woodgate, president of CHC, said this is about half the rate of other big cities in Canada.
Article content
The CHC said those earning $65,000 a year or less and paying more than 30 per cent of their income to housing — which works out to about $1,600 a month — are overspending on housing. The largest demographic overspending on rent are those earning $65,000 or less. Only four per cent of those with a household income of more than $80,000 are overspending on rent. Woodgate said most of the people they work with can only afford $500 to $900 a month for rent.
Woodgate said in 2015 they estimated the need for affordable housing was 88,000 households and the city is estimating that by 2024 there will be 100,000 households struggling with housing. The social housing waitlist has also grown from 4,500 in 2020 to almost 6,000 households.
Article content
MNP estimated earlier this year that 52 per cent of Albertans were within $200 of not being able to meet their financial obligations at the end of the month.
The CHC has several different programs where they work with people on housing: some of it market-based and some of it income-based.
"It's really exciting (to have) growth in our economy, and the economy is doing better," said Woodgate. "Unfortunately with growth in Calgary, it doesn't benefit all Albertans equally and as the economy has rebound, many Calgarians are falling further behind, struggling to find safe adequate housing for their families and also afford basic needs."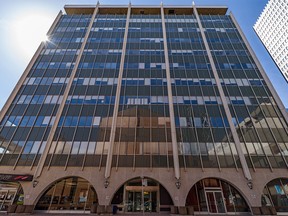 Inflation as a whole is at a 30-year high, hitting 6.3 per cent for the year in Alberta, with a monthly rate of 6.9 per cent. Much of this has been driven by higher commodity prices like gas and wheat due to many factors, but housing makes up a large chunk of the rising cost in living. Wages, though, are not keeping up with inflationary pressures.
Article content
Woodgate said the best option is to increase the number of rental properties and affordable housing options on the market. She pointed to other jurisdictions that have mandated thresholds of affordable units for new neighbourhoods.
Other provinces, like Manitoba, have a cap on rent increases, but Woodgate said those measures have been largely ineffective.
Lori Sigurdson, NDP seniors and housing critic, said the province needs to pull every lever they have to bring on more affordable housing. She said the impacts of housing stresses trickle down to all parts of life, from work to mental health and security.
"It's making it so difficult for regular Calgarians to afford rent," she said, "It's really a very, very difficult time."
Article content
In April, the government put forward Bill 78 which will prioritize the construction of 25,000 affordable housing units over 10 years in the province. They have also matched the federal government in funding for the National Housing Strategy with $561 million.
The federal government also prioritized affordable housing in its budget, increasing funding to the rapid housing initiative and the NHS.
Alberta Seniors and Housing Minister Josephine Pon said in an emailed statement they will be working closely with municipalities to fully assess what the needs are over the summer.
"This will ensure new projects are community-driven and focused for better community results. Specific decisions about which of the first projects and initiatives will be supported under the strategy will be made in the coming months. Project selection will be informed through the completion of needs assessments."
Twitter: @JoshAldrich03