Edmonton landlords run 'do not rent' list with hundreds of tenants in private Facebook group
More than 440 allegedly "bad tenants" are named in the most recent version of a list run by the Facebook group "Landlords Beware! Bad Tenants — Edmonton and area" accessed by Postmedia.
Article content
Edmonton landlords running a "do not rent" list are out of bounds, says their professional organization and the province's privacy commissioner.
Article content
We apologize, but this video has failed to load.
Edmonton landlords run 'do not rent' list with hundreds of tenants in private Facebook group
Back to video
More than 440 allegedly "bad tenants" are named in the most recent version of a list run by the secret Facebook group "Landlords Beware! Bad Tenants — Edmonton and area" accessed by Postmedia. The names of children, other family members, and a person's business are included in some cases.
Donna Monkhouse, executive director of the Alberta Residential Landlord Association, said these kinds of lists are "just not right."
Landlords already have the power to vet potential renters with credit and reference checks, and can ask for help from the courts, she notes. Monkhouse said there's no way to know if the stories about allegedly bad tenants are true or fabricated, but listing them could prevent someone who was in a bad place in the past from finding a home in the future.
Article content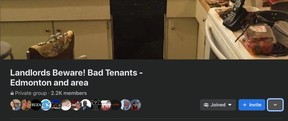 "People run into bankruptcy issues, can't pay their rent. People run into other problems, personal problems. Things happen. Is that right to be blacklisted for the rest of your life?" she said in an interview. "I just think it's wrong. It's just wrong."
The 2,200-plus member private Facebook group was created around four years ago for landlords and property managers "to post names and photos of 'bad tenants'. People who don't pay rent, destroy property etc.," according to the group's description.
But no reason as to why a person is an undesirable tenant is included for about 95 per cent of the names.
Twenty-two names include alleged infractions from simply "hoarder," allowing a person not included in the lease to live onsite, causing damage, and paying rent late or not at all, to a handful of more serious infractions where the court or police were involved.
Article content
Posts including photos of alleged damage caused by tenants are common in the group, as are screenshots of the Facebook profiles. Members can request to add a person's name by commenting on a master post.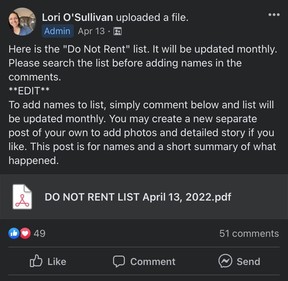 'Likely against the law'
Scott Sibbald, spokesman for the Office of the Information and Privacy Commissioner of Alberta (OIPCA), said in an email that creating or managing a database or list on social media for blacklisting tenants is "likely against the law."
"Several privacy issues arise, including ensuring accuracy of personal information and getting consent," he wrote.
Landlords in Alberta must follow rules in the Personal Information Protection Act, according to the commissioner's office. This means they can collect, use and disclose personal information only for reasonable purposes. Searching prospective tenants on social media would likely require their consent, he said.
Article content
Calgary-based lawyer Joshua Threinen, who was a group's administrator until recently, denied involvement with the list and said he isn't a fan of it. He was brought on to help moderate the group, he said, which is a place for landlords to share experiences about repeatedly bad tenants.
He said Alberta's landlord and renter laws need to be strengthened.
"There is a certain, very small section of the population that serially causes excessive damage to these peoples' properties," he said in an interview. "There are the same people going around trashing these peoples' properties … and (some landlords) have invested their life savings. This is peoples' retirement funds, and they're losing $20,000 to $30,000 in repairs."
Article content
Asked if such a list is fair to tenants who aren't notified about it, Threinen had no comment.
Threinen identified himself as a "Barrister and Solicitor" in a post April 27, 2021. In this post, he tells members that tenants have no expectation of privacy on Facebook because the pages are public, and that commenters should "prove that the tenants were in the wrong or caused damages." He also warns members against discussing the private contents of the group and for lying about tenants.
Threinen told Postmedia he had no recollection of this post and suggests someone else may have posted under his name.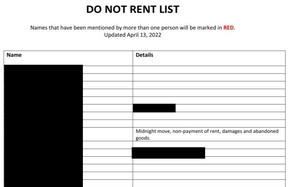 'He's still trying to ruin my life'
One such renter named in the group is Joni Watchmaker.
Contacted by Postmedia, Watchmaker was surprised to learn that a man she rented from in 2018, Sammy Rahime, asked to add her to the list just a few weeks ago. Rahime posted a screenshot of Watchmaker's Facebook page with her name and the comment "Very very bad tenant."
Article content
"It still feels like I'm being attacked. That was four years ago, and he's still trying to ruin my life," Watchmaker said.
Members of the group only hear one side of the story, Watchmaker said, and that doesn't seem fair.
Watchmaker explained that in 2018 she was forced to choose between her job and unexpectedly taking in her two twin infant grandsons to prevent them from ending up in foster care. There's no way she would let her grandchildren go into this system after watching how it ruined her sister's life, she said.
"I had to take time off of work, so I didn't have an income, so I was falling behind on my rent. I was trying to ask (my landlord) to be understandable while I was waiting for my E.I. to kick in," she said.
"I had to make a decision, and I chose my family. I chose my grandkids."
Article content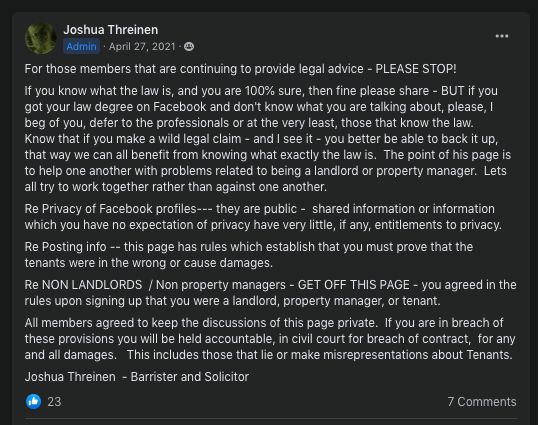 Watchmaker was concerned to learn of her former landlord's continued attention.
In 2019, Rahime also posted a one-star review about Watchmaker on her workplace's Google page — which Postmedia has seen — telling people to stay away from her, that she is a liar, and that she owes him money.
She acknowledges she owes Rahime money but said it's been difficult to pay back. But she doesn't think that something that happened four years ago mean she and her grandsons shouldn't be able to find a place to live today: "I'm glad (my new) landlord allowed me to rent there, because where would I be if he didn't? I'd be losing my grandkids, I'd be homeless."
Rahime told Postmedia he wanted to add Watchmaker's name to the "do not rent list" to warn other landlords.
There aren't enough protections for landlords in Alberta, Rahime said. If someone causes damage: "charge them criminally," he said. "Anybody can go up to anybody's house and damage it … they should be able to be charged."