Breakenridge: A proposed Alberta Sovereignty Act could create economic and constitutional chaos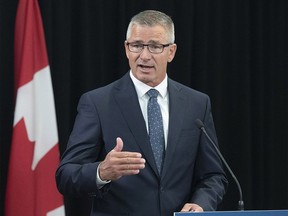 Article content
Forty years ago, Alberta won a decision at the Supreme Court of Canada that prevented the federal government from imposing an export tax on natural gas.
Article content
We apologize, but this video has failed to load.
Breakenridge: A proposed Alberta Sovereignty Act could create economic and constitutional chaos
Back to video
It was a major victory for Alberta and a major rebuke for Prime Minister Pierre Trudeau and his National Energy Program. Presumably, it did not occur to the federal government to simply ignore the ruling and proceed as planned. The disappointment of defeat is surely preferable to the shame of unleashing such destructive mayhem.
Fast forward to present day, where we have seen the Supreme Court of Canada reject challenges to the approval of the Trans Mountain pipeline expansion project (TMX) and, more specifically, reject B.C.'s attempt to usurp federal jurisdiction and block the project.
How anyone would look at all of that and feel that undermining Canada's constitutional order and rule of law might somehow be in Alberta's interest is beyond baffling. That an ostensibly serious candidate to become Alberta's next premier would embrace this nonsense is quite shocking indeed.
Article content
UCP leadership candidate Danielle Smith vowed last week that if she becomes premier, her first act would be to introduce the Alberta Sovereignty Act, which would authorize the province to "refuse to enforce any federal law or policy that attacks Alberta's interest or our provincial rights."
The idea for this legislation comes directly from something called the "Free Alberta Strategy," which was released by the Alberta Institute last October. A few UCP MLAs endorsed it at the time, but it wasn't something that the party as a whole seemed to take seriously. That may now be changing.
But why? Are we really to believe that Jason Kenney's undoing was that he wasn't enough of a separatist? That he wasn't sufficiently enthusiastic about nullification and constitutional chaos? Are these really the lessons the UCP needs to learn from the past two years?
Article content
It's unclear how exactly or under what circumstances this new power would be deployed. Either way, it's safe to say that doing so would be swiftly and thoroughly rejected by the courts. No problem, proponents say, because we'll simply disregard those court rulings.
This is what the edge of the abyss looks like. In a sane world, those advocating such madness would get nowhere near the premier's office.
Even the most charitable interpretation of the validity of this approach still leaves us with the question of how this addresses any of the major challenges facing Alberta at the moment. That's leaving aside the question of how alienating the rest of the country helps us or how we'd deal with those same guns being turned on us by another jurisdiction (B.C. deciding it can block interprovincial pipelines, for example).
Article content
Then there's the whole matter of scaring off investment, as playing with political and constitutional dynamite tends to do. Fortunately, at least one UCP leadership candidate was level-headed enough to recognize and articulate this point.
When asked about the Alberta Sovereignty Act in an interview last week, former Finance Minister Travis Toews noted that "investors really gravitate to jurisdictions that demonstrate certainty and predictability — jurisdictions that are not in chaos."
Whether the rest of the party is listening remains to be seen. This is perhaps one consequence of Kenney's rhetoric around "standing up to Ottawa" and "fighting for a fair deal." It was never going to amount to much, but by raising expectations to the contrary, it's no surprise that some think we just need to double and triple down.
The cynical view is that this is all just rhetoric, too; necessary pandering in a hotly contested, high-stakes leadership contest. If so, that's a sad commentary on the state of the party.
Kenney's demise offers the UCP a chance at renewal. If this is the rabbit hole they wish to go down, then the party deserves its own demise.
"Afternoons with Rob Breakenridge" airs weekdays 12:30-3pm on 770CHQR and 2 – 3pm on 630CHED rob.breakenridge@corusent.com  Twitter: @RobBreakenridge