Braid: Toews likes yoga, wouldn't block federal laws or put Kenney in cabinet
Toews says he's generally in favour of a provincial police force and pension, but against the nullification proposal advanced by Danielle Smith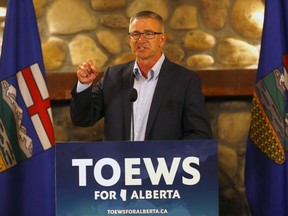 Article content
UCP leadership hopeful Danielle Smith's pledge to declare Alberta "sovereign" and nullify federal laws could create chaos and scare off investors, says candidate Travis Toews.
Article content
We apologize, but this video has failed to load.
Braid: Toews likes yoga, wouldn't block federal laws or put Kenney in cabinet
Back to video
Toews, the former finance minister, said in an interview: "Some initiatives I would align with, but others would be very challenging both from a legal and constitutional standpoint, and from the standpoint of implementing them.
"Investors really gravitate to jurisdictions that demonstrate certainty and predictability — jurisdictions that are not in chaos.
"I think that's the lens we have to use to evaluate each one of those initiatives within the proposal."
Toews says he's generally in favour of a provincial police force and pension, but against the nullification proposal advanced by Smith and the Free Alberta Strategy group.
It states that a provincial police force could simply be ordered not to enforce federal laws judged to be against Alberta's interests.
Article content
Referring to ideas for dealing with Ottawa, Toews says, "When we deal with these issues there's a danger in over-promising and under-delivering . . . a bellicose approach that's full of rhetoric I don't believe is the strategic way forward; I don't believe we win that way."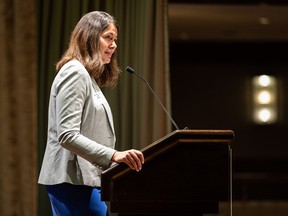 The equalization referendum, for instance, was trumpeted by Premier Jason Kenney as the path to change, but the rest of Canada has completely ignored it. Kenney did not appear to have a backup plan for dealing with silence.
Even now, it seems that the UCP government's aggressive demand for five World Cup soccer games in Edmonton caused the capital to be rejected entirely as a host city.
Most galling, Vancouver had dropped out but now is invited back in.
Article content
I asked Toews if he would put Kenney in his cabinet during the period between the October leadership decision and the election next May.
"I believe the premier has accomplished an awful lot in these first three years," Toews said.
"But you know, there's a season for everything. If I were premier I would certainly operate with a different leadership style and tone.
"So I would not appoint him to a cabinet position."
Toews is running third in early leadership campaigning but climbing fast, according to a new Angus Reid Institute poll just released.
He has 25 per cent support among UCP-leaning voters, up from less than 10 per cent a short time ago.
Smith has 34 per cent and Brian Jean is at 33 per cent, in the emerging front-line battle of the former Wildrose leaders.
Article content
Toews says the Trudeau federal government "is erratic and it's very hard to determine what their objectives are. In terms of energy policy right now, it's incoherent quite frankly.
"On a couple of issues we are not going to be able to negotiate with this federal government, but we need to be strategic."
He said Alberta's legal challenge to federal Bill C-69, which won in the Alberta Court of Appeal, "was a very good approach. That's what I'm referring to when I talk about a strategic approach."
Article content
Then there's the yoga issue.
Toews was on the board of a religious school that preached against same-sex relationships (or almost any relationships, for that matter) and deemed yoga a sinful practice.
"I have no idea where that came from," he laughs. "I haven't taken up yoga but probably should. I'm not very flexible as I age. The last time I was at a chiropractor he recommended yoga."
He says the yoga ban might have been school policy (in fact, it was), "but I certainly wasn't aware of it."
Given his beliefs, Toews also faces question about his feelings on the more consequential matters of abortion and gay rights.
"My personal views would put me in the pro-life camp on that issue (abortion)," he says.
"But I have no intention or agenda on limiting access to health care with respect to abortion. I've shared my personal views but what really matters is how I would lead in this area."
As for LGBTQ2S rights, he says "If I had the privilege of serving as premier, I would be the premier for all Albertans, and I would passionately defend the personal rights and liberties of all Albertans, regardless of sexual orientation."
There's still more than three months of leadership campaign to go. During that time, Don Braid hopes to interview every candidate who will talk to him.
Don Braid's column appears regularly in the Herald.
Twitter: @DonBraid