Braid: Talking straight to UCP anger, Smith could win the leadership
Early polls show her rising and now leading among UCP loyalists — the only ones who will matter in the vote Oct. 6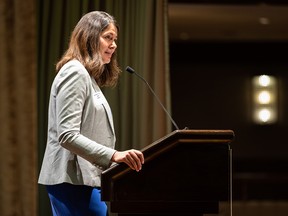 Article content
Many Albertans are dismissing Danielle Smith as a separatist flake who won't get anywhere in the UCP leadership election.
Article content
We apologize, but this video has failed to load.
Braid: Talking straight to UCP anger, Smith could win the leadership
Back to video
They should not. Smith is onto something that could win her the leadership and premier's office.
She's flying out of the gate with a striking Alberta First agenda. Early polls show her rising and now leading among UCP loyalists — the only ones who will matter in the vote Oct. 6.
Whether her plan to "nullify" federal laws would be a winner in next year's general election is another matter. That seems unlikely, but we should also remember the adage about playing with fire.
On Tuesday, Smith upped the ante, promising that "Alberta will never lock down again." She said any federal orders or measures violating freedom will not be enforced in Alberta.
This is emotional stuff with great appeal for many UCP members. Smith is running right over the unfocused campaigns of other candidates who think the public just wants them to be nice to each other.
Article content
Personally, I think Smith's agenda is both risky and lopsided. It tells us all the things Alberta could do to defy federal law, while taking no account whatever of what Ottawa might do in return.
There can't be an honest conversation about her plan without clarity about the risk of federal reprisal.
At the same time, her list of grievances shows there's plenty of cause for anger.
Bill C-69, for instance, is a blunt-force attack on Alberta's constitutional rights. If the Supreme Court overturns the Alberta Appeal Court's rejection of the environmental assessment act, we could have an upsurge of support for her plan.
Article content
When Smith promises to simply cancel enforcement of federal laws hostile to Alberta, she can say Quebec does that all the time and we should, too.
Ottawa didn't utter a squeak of protest when the Quebec National Assembly voted to ban all pipelines crossing its sovereign territory. Quebec got a silent exemption from the Canadian Constitution.
But what would Smith's agenda mean for Albertans?
First, there would be a wrenching transition to get Alberta into position to "nullify." The province would need its own police force but that would cost hundreds of millions more than the RCMP in Alberta. Using it as a government tool to reject federal authority would be highly inflammatory.
According to Smith, Alberta would also need its own pension plan, as well as a collection system for provincial income tax. Again, Quebec already does those things.
Article content
But it's not certain the measures would pass referendum votes in Alberta.
Similarly, the province couldn't somehow extricate itself from the equalization dilemma. It's not a payment the province makes, but a federal calculation based on the revenue-generating ability of provinces.
This isn't the only province on the wrong side of payments. Four other provinces currently get no equalization cheques — Ontario, B.C., Saskatchewan, and Newfoundland and Labrador.
Then there's the cash on the line.
Alberta will receive $7.1 billion in basic federal transfer payments this year, or $1,592 per capita. That doesn't include the recent child-care agreement, which would bring $3.8 billion to Alberta by 2025.
The province has also collected $500 million in fiscal stabilization payments for the economic downturn in 2015-17.
Article content
Future payments will be higher because the per-capita payment has been raised — a considerable victory for the province.
If federal laws are overruled, it will be much harder to negotiate any of these matters with Ottawa. The feds might even neglect to make their payments. They can play hardball with Alberta at no political cost.
Finally, there could be severe economic effects from the impression of separatist upheaval.
Candidate Travis Toews, formerly the finance minister, warns of "chaos" as investors flee the province. That happened in Quebec after the Parti Quebecois was first elected in 1976.
Smith is speaking straight to the core of UCP anger. She could gain the leadership, but then would come the hard part — figuring out how to win an election with this plan.
Don Braid's column appears in the Calgary Herald
Twitter: @DonBraid