President Biden would 'very much like' to replicate Canada's national child-care plan: U.S. treasury secretary
Janet Yellen said increasing labour force participation is a crucial step in combatting worker shortages that are contributing to booming inflation rates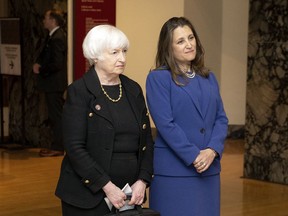 Article content
U.S. Treasury Secretary Janet Yellen says she "admires" the Liberal government's new national child-care plan and that U.S. President Joe Biden and her would "very much like" to see similar policies adopted in their country.
Article content
We apologize, but this video has failed to load.
President Biden would 'very much like' to replicate Canada's national child-care plan: U.S. treasury secretary
Back to video
During a public armchair discussion in Toronto with Deputy Prime Minister Chrystia Freeland on Monday, Yellen said that the United States has fallen behind allied countries when it comes to women's labour force participation in part because it does not provide "adequate child care."
"Child care is too lacking in availability and it's too expensive, and I very much admire what you've done here in Canada," Yellen told attendees of the discussion at the University of Toronto's Rotman School of Management.
She was referring to the Liberals' $30 billion promise in the 2021 budget to create $10-per-day child-care spots in every province within the next five years.
To do so, the government signed agreements — which vary widely from one to another — with all of Canada's provinces and territories that will first cut the cost of some spots in half before eventually dropping the daily cost to $10.
Article content
In Ontario, for example, the $13.2-billion deal promises to create 86,000 new spaces compared to 2019 levels.
The program was inspired from the existing system in Quebec, which offers heavily subsidized spots in public child-care centres known as "CPE" since it was implemented in 1997.
The model is credited with boosting women's participation in the workforce and accelerating their return after childbirth, but is plagued with a perennial lack of space that has parents scrambling to sign up children years before they're due to enter the child-care system.
Yellen said increasing labour force participation is a crucial step in combatting worker shortages that are contributing to booming inflation rates.
Article content
The treasury secretary said she and U.S. President Joe Biden are familiar with the deals the Liberals signed with the provinces and hope to be able to do the same back home.
"President Biden and I would very much like to see similar policies in the United States," she said.
"In terms of women's labour force participation, we used to be ahead of the pack. And now, among advanced countries, the United States is in the middle, or even worse."
A study by the Canadian Centre for Policy Alternatives published in May found that because provinces and territories are taking different approaches to try to meet the government's initial fee reduction targets, some might miss them.
"Broadly speaking, most cities and most age groups will miss the federal targets. They won't miss them by much, but they will miss them," David Macdonald, study co-author and a senior economist at the centre, told The Canadian Press.
With additional reporting by The Canadian Press.