David Staples: Trend alert! Another UCP leadership candidate bashes her own government for being 'arrogant and out of touch'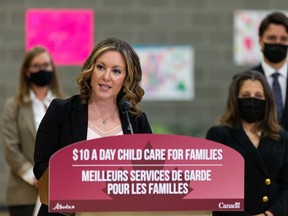 Article content
Yet another UCP leadership candidate is firing away at the former leadership of her own party.
Article content
We apologize, but this video has failed to load.
David Staples: Trend alert! Another UCP leadership candidate bashes her own government for being 'arrogant and out of touch'
Back to video
We've already heard candidate Leela Aheer say the time of top-down command has to end, and candidate Rajan Sawhney blast Premier Jason Kenney's tendency to demonize opponents. Even Kenney's former finance minister Travis Toews said that his government "wrongly characterized" other UCP members when he kicked off his campaign.
Now Rebecca Schulz, Kenney's former children's services minister, is stepping up, saying in her initial campaign video pitch to Albertans that, "Too many see us as arrogant, entitled, out of touch, of not listening to regular Albertans or even our party members …"
Schulz then delivered a hard and clever blow, blasting the old guard while setting herself up as a different kind of Alberta leader.  "Enough with the old boy's club and the infighting. Besides, I don't have time for that. Like many of you, I'm a working parent who chose to raise my family right here in Alberta."
Article content
Schulz's politics may not be your politics — she's an unwavering fiscal conservative who believes the best government is less government and that we must push hard to develop our oil and gas resources — but she's got credibility on the issue of tone. When it comes to UCP ministers who tended to keep their cool and calmly answer heated questions from the NDP Opposition, Schulz and Health Minister Jason Copping (who supports Schulz's leadership bid) graded out highest.
In reviewing her performance in question period, Schulz noticed she could come across as too sharp, she told me in the second of a series of interviews I'm doing with UCP leadership candidates. "I have to remember that when I'm in the house, I'm not just responding to my critic. Albertans are going to see that. I don't want them to think that's who I am, or how I act, or how I respond."
Article content
Just who is Schulz? She's a first-term MLA from the Calgary suburbs who grew up in small town Saskatchewan, her father a truck driver and cow-calf operator. She wouldn't say she was exactly a farm kid, Schulz said, but "I do joke that when I turned 16 I got a cow, not a car."
She got a degree in English, then got her master's degree in political communications as a correspondence student at Johns Hopkins University. She went into media relations first for an energy company, then for Saskatchewan Premier Brad Wall for three years.
She and her husband Cole Schulz moved to Calgary in 2015. Rebecca Schulz worked as a manager in communications and marketing at the University of Calgary, Cole Schulz in communications for the Canadian Association of Petroleum Producers. The couple has two children, ages four and seven.
Article content
She said she always wanted to live in Alberta, partly due to Alberta's long run of conservative rule. "If we thought that four years of NDP was devastating for our province, 16 years (of NDP rule in Saskatchewan) explains why I and a whole lot people living in Alberta were originally from Saskatchewan."
Rebecca Schulz's top claim to success in government is her negotiation of Alberta's $3.8-billion childcare agreement with Ottawa. The NDP said Schulz got nothing other provinces didn't get and was too slow to get it, but Schulz said the deal proves she's a tough negotiator.
Alberta has 70 per cent private daycare, so it was crucial that any government program covered them, not just public daycare spaces, Schulz said, adding the Alberta program also included income testing so higher needs Albertans would get an additional subsidy.
Article content
"I did not take the first agreement that was put across the table, I was among one of the last provinces to sign, and we got a great deal for Albertans."
I put it to Schulz that at age 37 she's young to run for the leadership, so why not wait until she's got more managerial experience?
"We need a leader not just for the next couple of years or to get us through the next election," she said. "We need a leader who can lead us into the next generation of our party and into the future of our province by engaging people in a way that really brings them and their views to the forefront, and also has done it by showing humility and honesty."
Again, there's now no shortage of candidates pushing hard on this message, that a change to a humbler tone is crucial to the UCP. Indeed, this message is so prevalent that I expect a leader from this compassionate conservative wing of the UCP will win the race.