Stampeders look for solution to slow starts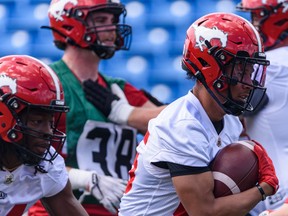 Article content
There was much jubilance in the comeback win Saturday in Steeltown.
Article content
But the Calgary Stampeders returned to the field Tuesday doing a little head-scratching over why they've fallen behind badly in their two starts so far on the 2022 CFL season.
"I'll take suggestions," said Stampeders head coach Dave Dickenson with a chuckle. "A little concerned I am, because you won't win a lot of games if you can't get out of the gate.
"As far as what to do, though, you just try to stress the details and show up with good energy and get the job done.
"So hopefully. it'll be a different story this week."
One slow start just happens.
A second straight? Call it coincidence.
However, a third consecutive lollygagger to start Saturday's game against the incoming Edmonton Elks (0-2) at McMahon Stadium (5 p.m., TSN/770 CHQR) would be considered an ugly pattern for the Stampeders (2-0).
Article content
They can't win them all coming from behind like they did, first, against the Montreal Alouettes on opening night — it was 24-14 at intermission — and then Saturday over the host Hamilton Tiger-Cats in thrilling 33-30 overtime fashion, which saw the Stamps rally from a 24-3 halftime deficit.
Heck … a third such flirt with disaster isn't at all welcome.
"A little disappointing," said Dickenson, speaking specifically about the Week 2 stutter at Tim Hortons Field. "Offensively, we were just not doing our part. We were offside on a 37-yard completion, and then we dropped a 20-, 25-yarder. And when you're going — like it was in that game — against the wind, too, you've gotta be playing and doing your job."
WALL, PAREDES STAR IN RALLY
Article content
The dramatic comeback came courtesy of all three facets of the game.
But the two poster boys for the rally were defensive back Titus Wall and kicker René Paredes.
After all, they both copped CFL top-performer honours for Week 2 after their respective big plays in the victory over the Ticats.
"It's very humbling," said rookie Wall of being saluted — mostly — for his scoop-six off a late-game fumble by Ticats QB Dane Evans that tied the affair 27-27. "Everything I've earned to this point — past or present — is all humbling. I'm just taking it all in, and I'm very appreciative of it."
The starry play saw Wall strip-sack Evans during a mad swarm by the defence with the QB trying to sneak on a third-down-and-short gamble with just over four minutes remaining in the contest. He knocked the ball loose and took it 45 yards to the house.
Article content
"I did look back at it a couple of times," said Wall of the play. "It was pretty cool just to see that happen because I mentioned a couple of days ago that (then-New York Jets safety) Jamal Adams did that when he played the New York Giants (in 2019). So I just saw that and said, 'Man, I gotta do that one day.'
"He's dope for that. I thought I gotta make that happen, and next thing you know, it did."
Wall did a lot in the win.
He gathered up his first career interception — a timely one in that he thieved the ball off Evans in the Stamps' endzone, thwarting the Ticats from going up 30-3 early in the third quarter — and counted six tackles in the contest, as well.
Big night, indeed.
"I'm the effort-guy," said 23-year-old Wall, a 6-foot, 205-lb. graduate of the NCAA's Missouri State Bears. "I like to play relentless all-out effort to the ball every single play and take no plays off, because when you do that, then the plays come to you.
Article content
"But without my team and without their effort, that (TD) wouldn't be possible. So they put me in the spot to be able make a play, especially on that touchdown. The defensive linemen and the linebackers — all the interior players — were there to cause havoc, so without them, it wouldn't be possible."
Without the confidence from the coaches, it also wouldn't have been possible.
"We moved him around to a few positions — he was playing free safety," Dickenson said. "Obviously I think there's room for improvement, but … yeah … when the ball's there, he goes and gets it.
"And the game's about the ball. It really is — whether you're on offence, defence or special teams. And that play he took for a touchdown was really an amazing play. It was really the play that gave us the chance to win.
Article content
"I was happy for him. He knows he has to keep improving, but he's doing the right things."

Meanwhile, there was veteran Paredes — again — doing all the right things in the triumph to grab one of the other two CFL top-performer salutes.
"It always means something," said the 37-year-old kicker. "But I keep saying that I really don't worry about those things. All I worry about is making my field-goals, and everything will take care of itself."
He took care of plenty Saturday, hitting four field-goals — including the game-tying effort from 39 yards out with 16 seconds left to force OT and the winner from 35 away in the extra session — and going perfect on three converts.
Yes … he was his usual impressive self.
"If you're a kicker in Hamilton, you know what the conditions are like," said Dickenson of a windy ballpark. "And Rene was money. I'd like to score more touchdowns than field-goals, but we feel confident we're going to get points (with him).
Article content
"And he's been really good."
Paredes has now hit 26 consecutive field-goals, including seven this season.
"You've got to stay calm," added Paredes. "I'm a very calm guy anyway, so that kind of helps me out on the field. I just focus myself and just worry about the next kick. I'm ready anytime when my name is called."
SHORT YARDAGE
Stamps RB Ka'Deem Carey (ankle) was a full participant in practice Tuesday after leaving Saturday's win early. He touched the ball just three times for 18 yards in Hamilton. "I got tackled, and that thing twisted up, swelled up and then locked down on me," Carey said. "But no issues — got me some treatment and it loosed up, and it's ready to go. I was running around like a little kid once I got good news." … Carey's replacement, RB Peyton Logan, came on to run for 45 yards on nine hauls and make four catches for 59 yards, but he also got knocked out of the affair after getting his bell run. Dickenson noted that the rookie Logan was in concussion protocol Tuesday. "I don't know for a fact," said the coach of the two running backs. "But I'm hopeful both will be available (for the Elks game)." … Of other question marks heading into Week 3, DB Elie Bouka (hamstring), WR Colton Hunchak (ribs), WR Jalen Philpot (hamstring) and OL Hugh Thornton (healthy scratch) were full participants in practice, while P Cody Grace (groin), LB Cameron Judge (head), DB Jonathan Moxey (hamstring), DB Tre Roberson (shoulder) and WR Richie Sindani (hamstring) were limited Tuesday.