Posthaste: Why these economists think Canada's housing correction is going to be worse than they feared
Home prices seen declining 20%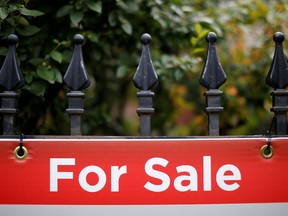 Article content
We apologize, but this video has failed to load.
Posthaste: Why these economists think Canada's housing correction is going to be worse than they feared
Back to video
Good Morning!
Evidence that Canada's housing market is cooling has been obvious for several months, but now some economists say signs are appearing that the reckoning will be worse than they had feared.
An increasingly hawkish Bank of Canada, the widening of mortgage spreads and news that a lender has suspended new loan applications has prompted Capital Economics to deepen its forecast of home price declines to 20%.
Mortgage spreads dropped during the pandemic when lenders were eager to offer homebuyers financing, but this trend has reversed in recent months.
Capital says the spread between the "discretionary" five-year fixed mortgage rate, or the average for uninsured borrowers, and the five-year swap rate doubled from its October 2021 low of 60 basis points to 120. The spread between variable rates and the policy rate jumped by 50 bp to 170.
This month too Magenta Capital Corporation, one of Canada's largest private lenders, decided to temporarily halt new loan applications until September. Although Magenta accounts for only a small portion of total lending, it is a big player in the subprime market, says Capital, and its decision may only be the beginning.
"There will be so many more of these Mortgage Investment Corps suspending lending in the next eight weeks," said Ron Butler, of Butler Mortgage, in a tweet after the news. "When your modelling suddenly shows values dropping 5% a month in some markets, what else can you do?"
As financing dries up, the risk of forced home sales rises, "something Canada's housing market has historically avoided," said Capital economist Stephen Brown.
On the bright side, Capital believes the situation is not quite as dire as some recent headlines might suggest.
Only 3% of homeowners in Canada with a variable rate mortgage with variable payments would face immediate pressure to sell as rates rise further, said Brown. Some will have to renew at a higher rate this year, but considering rates five years ago were close to a peak, they should be manageable for most.
Nor did May's data show evidence of forced selling. New listings rose by 4.5% from the month before but were lower than in February.
But what the surge in mortgage rates has caused is a "huge hit to buying power," said Capital.
Home sales were down 22% in May from the year before and that was when the five-year fixed mortgage rate was 100 bps lower than the current 5.1%.
"While we expect fixed mortgage rates to drop back as markets come round to our view that the policy rate will peak at 3.0%, rather than 3.75% as market pricing now implies, much of the damage has already been done. Accordingly, we are revising down our forecast for house prices to a 20% fall," wrote Brown.
_____________________________________________________________
Article content
Was this newsletter forwarded to you? Sign up here to get it delivered to your inbox.
_____________________________________________________________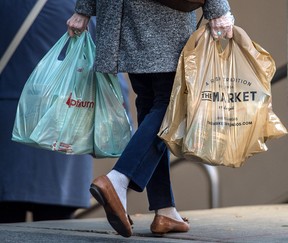 BAGS BANNED Plastic bags, takeout containers and single-use plastic straws, stir sticks, cutlery and those six-pack rings that hold cans and bottles together are being banned in Canada. By the end of this year companies are banned from importing or making all of the above; by the end of next year the ban will extend to selling and exporting them. Federal data show in 2019, 15.5 billion plastic grocery bags, 4.5 billion pieces of plastic cutlery, three billion stir sticks, 5.8 billion straws, 183 million six-pack rings and 805 million takeout containers were sold in Canada, Canadian Press reports. A 2019 Deloitte study found that less than one-tenth of the plastic waste Canadians produce is recycled. That meant 3.3 million tonnes of plastic was thrown out annually, almost half of it plastic packaging. Photo by Peter J Thompson/National Post
Article content
Key experts and decision-makers representing the EU and Canada discuss and debate the global security landscape and responses to emerging challenges in Ottawa
B.C. Auditor general Michael Pickup holds a teleconference to discuss a new report on the Ministry of Energy, Mines and Low Carbon Innovation's oversight of major mines.
Collision conference continues in Toronto
Today's Data: Canadian retail sales, U.S. existing home sales
Earnings: Lennar Corp
Article content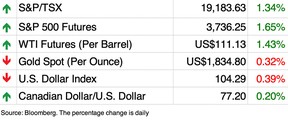 _______________________________________________________
Article content
Google searches for "recession" are spiking to levels last seen at the start of the pandemic and higher than levels seen during the 2009 financial crisis, points out BMO senior economist Robert Kavcic. "While this isn't exactly a mainstream economic indicator, it doesn't look good given past precedent," he wrote.
Article content
Fears of recession have been growing lately as persistent inflation looks likely to spur central banks to tighten policy more than expected.
"It's going to take some help and good luck to avoid a meaningful growth downturn, if not an outright contraction in the economy," wrote Kavcic.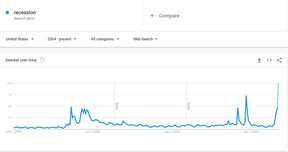 ____________________________________________________
Credit card insurance could save you thousands of dollars, but you must understand your coverage to maximize your benefits. Our content partner MoneyWise lays out what types of insurance cards are offering and what you have to do to qualify for travel, medical, purchase insurance and more.
___________________________
Article content
Today's Posthaste was written by  Pamela Heaven (@pamheaven), with files from The Canadian Press, Thomson Reuters and Bloomberg.
Have a story idea, pitch, embargoed report, or a suggestion for this newsletter? Email us at posthaste@postmedia.com, or hit reply to send us a note.
Listen to Down to Business for in-depth discussions and insights into the latest in Canadian business, available wherever you get your podcasts. Check out the latest episode below: